Pavement Road Crossing Sirtu Village Kondowa
Keywords:
Design, Kondowa Village, Location Plan, Road
Abstract
Based on its geographical position, Pasarwajo District has regional boundaries, namely: Kapontori District, Wolowa District, Wabula District, South Buton Regency, Flores Sea and BauBau City. Kondowa Village is one of the villages in Pasarwajo District whose population is mostly transmigration. The area of Pasarwajo District is 3.77 KM2. Kondowa Village only has 1 access road to connect with Holimombo Jaya Village so the community took the initiative to build a new road that will be an alternative route to go to the opposite village. The results of the debate resulted in the design of the Kondowa Village Road and the materials that will be used for the construction of the village road which is then agreed upon with the length of the road to be worked on, which is 2,715 meters long. The Kondowa Village Government hopes to collaborate with the Civil Engineering Study Program, Faculty of Engineering, University of Muhammadiyah Buton to continue helping design planning in the building industry.
References
Dinata, I. W. W., Suwitra, I. M., & Sutama, I. N. (2021). Pengadaan Tanah Bagi Pembangunan Jalan Usaha Tani di Desa Adat Saren, Kecamatan Bebandem Kabupaten Karangasem. Jurnal Preferensi Hukum, 2(2), 435–441. https://doi.org/https://doi.org/10.22225/jph.2.2.3354.435-441
Direktorat Jenderal Prasarana dan Sarana Pertanian. (2012). Konsep Pedoman Teknis Pengembangan Jalan Pertanian. Kementerian Pertanian. Jakarta: Kemenhan.
Hakim, L. (2019). Perencanaan Geometrik Dan Tebal Perkerasan Kaku (Rigid Pavement) Pada Jalan Kelompok Tani Melambang Kecamatan Tenggarong Kabupaten Kutai Kartanegara. Kurva Mahasiswa, 1(1), 196–204. https://doi.org/http://ejurnal.untag-smd.ac.id/index.php/TEK/article/view/3889
Havizah, H., Ifansyah, M. N., & Arbayah, S. (2018). Pengelolaan Dana Desa dalam Pemberdayaan Jalan Usaha Tani Di Desa Maburai Kecamatan Murung Pudak Kabupaten Tabalong. JAPB, 1(1), 137–152. https://jurnal.stiatabalong.ac.id/index.php/japb/article/view/108
Perdana, W., Purwati, A. S., & Sarmilasari, M. (2022). Analisis Efektivitas dan Dampak Bantuan Langsung Tunai Dana Desa, Pembangunan Infrastruktur Jalan Usaha Tani terhadap Perekonomian dan Kesejahteraan Masyarakat di Desa Pliken Kecamatan Kembaran Kabupaten Banyumas (Tahun Anggaran 2020-2021). MidYear National Conference and Call for Paper, 1(1). http://jp.feb.unsoed.ac.id/index.php/myc/article/view/3164
Puspasari, Anneke. (2012). Faktor-faktor yang Mempengaruhi Alih Fungsi Lahan Pertanian dan Dampaknya terhadap Pendapatan Petani, Studi Kasus Desa Kondangjaya, Kecamatan Karawang Timur, Kabupaten Karawang. Skripsi. Institut Pertanian Bogor, tidak dipublikasikan.
Rahmadi, R., & Setiawati, B. (2020). Evaluasi Program Pembangunan Infrastruktur Pedesaan Jalan Usaha Tani Desa Kandris Kecamatan Benua Lima Kabupaten Barito. JAPB, 3(2), 1225–1239. https://doi.org/http://jurnal.stiatabalong.ac.id/index.php/japb/article/view/348
S, Muh. Sayfullah., Musrifin, & Zain,W.O.R. (2021). Perencanaan Desain Mushollah Al-Fatah SDN 20 Lakudo Desa Madongka Kecamatan Lakudo Kabupaten Buton Tengah. Jurnal Pengabdian Kepada Masyarakat Membangun Negeri, 5 (1).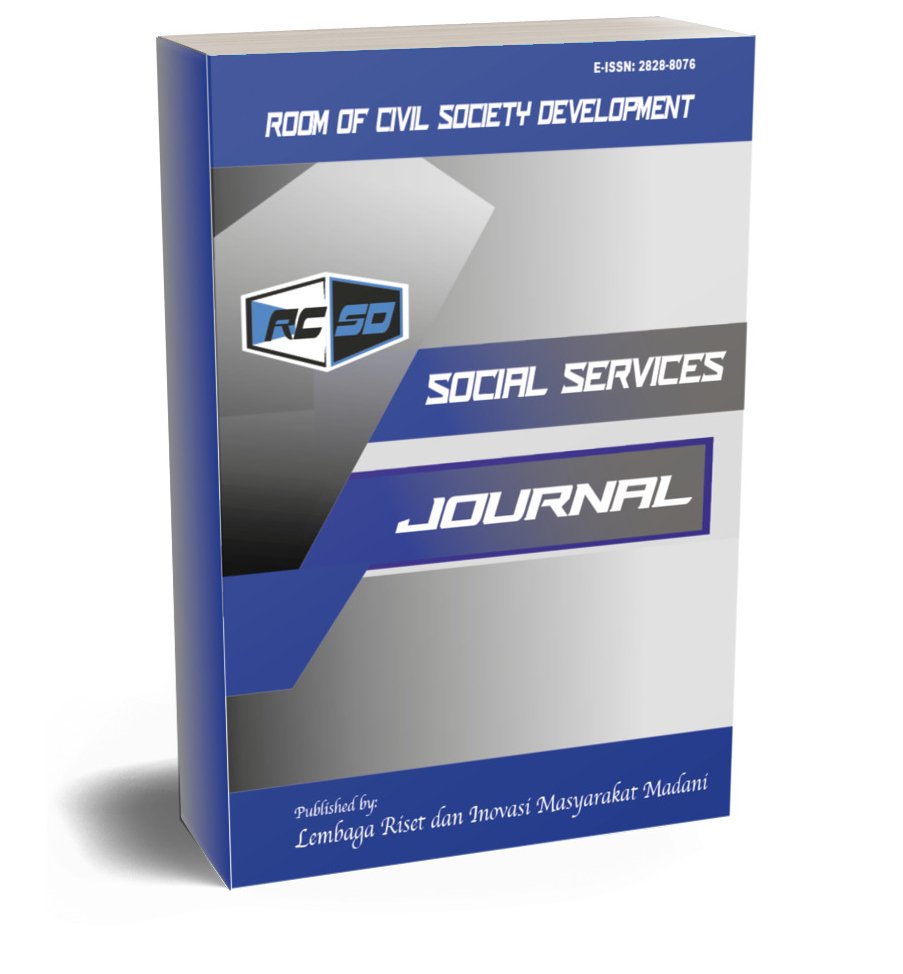 Downloads
How to Cite
Rumbayan, H. K. S. ., Musrifin, Sijono, & Faty M, Q. A. . (2023). Pavement Road Crossing Sirtu Village Kondowa. Room of Civil Society Development, 2(1), 77–83. https://doi.org/10.59110/rcsd.v2i1.162
License
Copyright (c) 2023 Hendra Kundrad Susanto Rumbayan, Sijono, Qiber Azim Faty M
This work is licensed under a Creative Commons Attribution-ShareAlike 4.0 International License.
| Abstract views: 29 / PDF downloads: 22