Fun with English Activity for Junior High School 8 Palopo
Keywords:
Activity, Communicative Skills, Fun with English
Abstract
This research is to enhance students' communicative and English skills of students of Junior High School 8 Palopo, Indonesia. The method used is teaching and learning English with providing pre-test, applying fun with English activities, and giving post-test as the report. The procedures of applying the fun with English activity are giving ice breakers, applying games, explaining materials, grouping the students, providing practice, and evaluating the students' achievement and the process of the activity. There are several games used in the activity, such as whispering, introducing other and total physical response. It shows that students are eager and interested in learning English that can be seen in their full participation in the Fun with English activity. Also, students are eager to communicate with others by providing communicative and fun activities that is emphasized in the grouping activities. This part enables students to communicate with their peers and tutors effectively. The implication of the study can be a reference for other school to apply the same activity and to collaborate with English Education Study Program to apply the similar activity to increase students' communicative and English skills.
References
An-Nisa, N., & Suwartono, T. (2020). Fun Ways in Learning English. Journal of Applied Linguistics (ALTICS), 2(1), 44–51.
Ashraf, H., Motlagh, F. G., & Salami, M. (2014). The Impact of Online Games on Learning English Vocabulary by Iranian (Low-intermediate) EFL Learners. Procedia - Social and Behavioral Sciences, 98, 286–291. https://doi.org/10.1016/j.sbspro.2014.03.418
Bakhsh, S. A. (2016). Using Games as a Tool in Teaching Vocabulary to Young Learners. English Language Teaching, 9(7), 120. https://doi.org/10.5539/elt.v9n7p120
Camargo, V. N. I., & Bernice, D. L. (2001). The Fun Approach to English Learning. PROFILE Issues in Teachers' Professional Development., 2 (1), 9–11.
Eggleston, T., & Smith, G. (2004). Building Community in the Classroom through Ice-Breakers and Parting Ways. Society for the Teaching of Psychology, 1–21.
Husnaini, & Yahya, A. (2023). Peningkatan Kemampuan Bahasa Inggris melalui Fun With English Pondok Pesantren Nurul Ummah-Morowali. Community Development Journal, 4(1), 533–537.
Krahenbuhl, K. S. (2021). Building Effective Learning Environments. Routledge.
Larasaty, G., Anggrarini, N., & Efendi, N. (2022). "Fun English" sebagai Kegiatan dalam Pengajaran Bahasa Inggris untuk Anak Sekolah Dasar di Indramayu. Room of Civil Society Development, 1(2), 96–102. https://doi.org/10.59110/rcsd.v1i2.35
Nurchalis, N. F., Ermawati, E., Sardi, A., & Nursabra, N. (2021). Language Laboratory to Overcome the Barrier of Classroom English Learning: Does it Exist and Is it Used in Islamic Schools of Majene? Elsya : Journal of English Language Studies, 3(3), 183–194. https://doi.org/10.31849/elsya.v3i3.6824
Sardi, A., Atmowardoyo, H., & Weda, S. (2017). The Distinct Types of Diction Used by the EFL Teachers in the Classroom Interaction. International Journal of Science and Research, 6(3), 1061–1066. https://doi.org/10.21275/ART20171558
Susanty, L., Hartati, Z., Sholihin, R., Syahid, A., & Liriwati, F. Y. (2021). Why English teaching truth on digital trends as an effort for effective learning and evaluation: opportunities and challenges: analysis of teaching English. Linguistics and Culture Review, 5(S1), 303–316. https://doi.org/10.21744/lingcure.v5ns1.1401
Yeganehpour, P. (2016). Using Ice-Breakers in Improving Every Factor Which Considered. International Journal on New Trends in Education and Their Implication, 7(1), 58–68. www.ijonte.org 58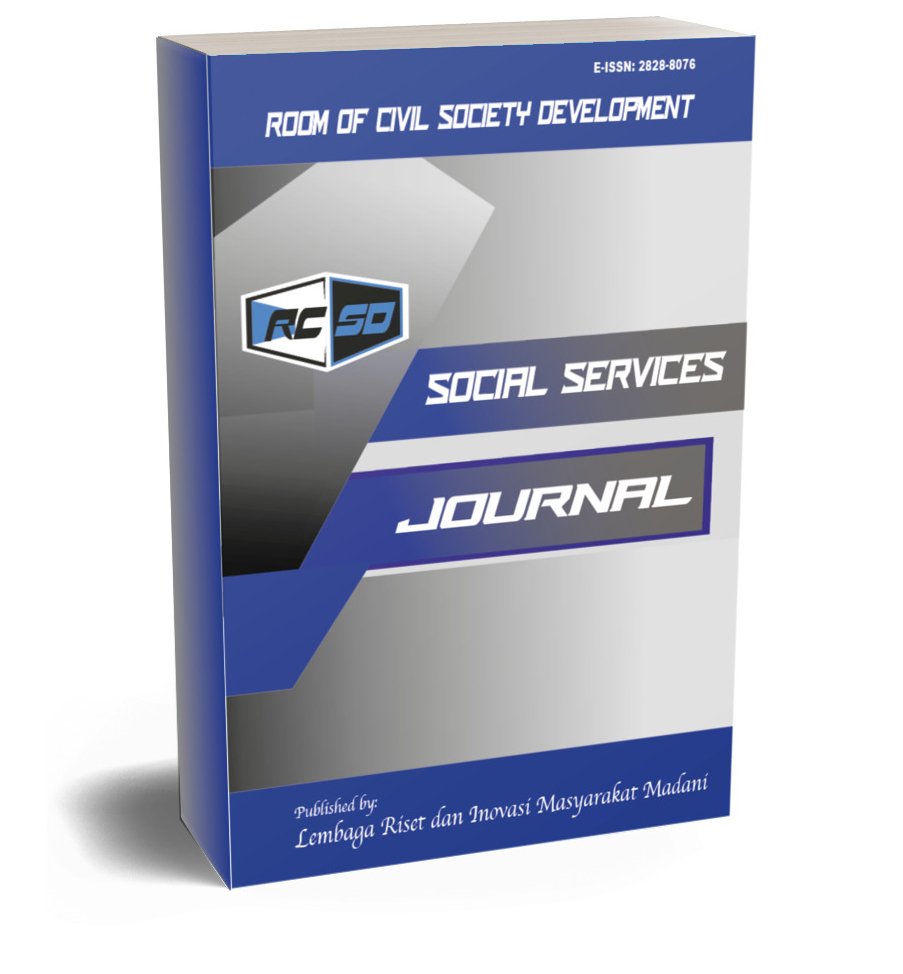 Downloads
How to Cite
Ermawati, & Suherman, L. O. A. (2023). Fun with English Activity for Junior High School 8 Palopo. Room of Civil Society Development, 2(5), 179–184. https://doi.org/10.59110/rcsd.207
License
Copyright (c) 2023 Ermawati, La Ode Achmad Suherman
This work is licensed under a Creative Commons Attribution-ShareAlike 4.0 International License.
| Abstract views: 37 / PDF downloads: 5