The Effect of Toxic Friendship on Students' Mental Health
Keywords:
Mental Health, Students' relationship
Abstract
This study aims to investigate the influence of toxic friendships on students' mental well-being. Specifically, it examines the detrimental effects of negative relationships within friendships on individuals' mental states. The research focuses on students enrolled in the Communication Science Study Program at Mercu Buana University Yogyakarta, Class of 2021. A sample of 135 students was selected using a simple random sampling technique from a population of 226. This type of research is quantitative research with a survey method approach. This study employing a modified questionnaire titled "Effect of Toxic Friendship on Student Mental Health" as the primary data collection instrument. The data obtained is then analyzed using SPSS software. The results indicated that toxic friendship has no effect on students' mental health. The instrument in this study used a questionnaire. The results showed that toxic friendship has no effect on students' mental health. The study underscores the need for further research to better understand the complexities of social relationships and their implications for mental health. This work contributes to the ongoing discourse on the factors affecting students' psychological well-being in educational settings.
References
Amin, M., Wajdi, R., & Syukri, S. (2020). Perilaku Komunikasi Toxic Friendship (Studi terhadap Mahasiswa Fisip Universitas Muhammadiyah Makassar). Jurnal Komunikasi dan Organisasi J-KO, 2(2), 93-111.
Brody, L. R., & Hall, J. A. (2010). Gender, emotion, and socialization. Handbook of Gender Research in Psychology: Volume 1. Gender Research in General and Experimental Psychology, 429-454.
Faizah, F., & Amna, Z. (2017). Bullying dan kesehatan mental pada remaja sekolah menengah atas di Banda Aceh. Gender Equality: International Journal of Child and Gender Studies, 3(1), 77-84.
Hapsari, I. G., & Sholichah, I. F. (2022). Pengaruh Kualitas Persahabatan Dan Harga Diri Terhadap Kebahagiaan Pada Mahasiswa. Jurnal Pendidikan dan Konseling, 4(1), 383-387.
Hardianti, R., Erika, E., & Nauli, F. A. (2021). Hubungan Antara Rasa Syukur Terhadap Kesehatan Mental Remaja Di Sma Negeri 8 Pekanbaru. Jurnal Ners Indonesia, 11(2), 215-227.
Indonesian-Investments. (2017). Population of Indonesia. Retrieved from: https://www.indonesia-investments.com/culture/population/item67
Intan, T., Hasanah, F., & Wardiani, S. R. (2021). Kekerasan Dalam 'Persahabatan Beracun'antarperempuan Pada Novel Antéchrista Karya Amélie Nothomb. Diksi, 29(2).
Muntaha, M. I. A. (n.d.). Promosi Kesehatan Mental Menggunakan Media Sosial (Instagram) Bagi Kalangan Remaja di Masa Pandemi Covid 19.
Santoso, H. (2021). Permasalahan Kesehatan Mental di Masa Covid-19. Jurnal Riset dan Pengabdian Masyarakat, 1(2), 170-185.
Safitri, Y., & Hidayati, E. (2013). Hubungan antara pola asuh orang tua dengan tingkat depresi remaja di SMK 10 November Semarang. Jurnal Keperawatan Jiwa (JKJ): Persatuan Perawat Nasional Indonesia, 1(1).
Wajdi, R. (2021). Perilaku Komunikasi Toxic Friendship Dengan Teman Sebaya. Thesis. Universitas Muhammadiyah Makassar.
Willenberg, L., Wulan, N., Medise, B. E., Devaera, Y., Riyanti, A., Ansariadi, A., ... & Azzopardi, P. S. (2020). Understanding mental health and its determinants from the perspective of adolescents: a qualitative study across diverse social settings in Indonesia. Asian Journal of Psychiatry, 52, 102148.
Yunanto, T. A. R. (2019). Perlukah kesehatan mental remaja? Menyelisik peranan regulasi emosi dan dukungan sosial teman sebaya dalam diri remaja. Jurnal Ilmu Perilaku, 2(2), 75-88.
Zulfia, I., Meilinda, M., Ilma, N., & Muskhafiyah, S. (2021). Kesehatan Mental Remaja Pada Masa Pandemi. Counseling As Syamil, I (01), 11-19.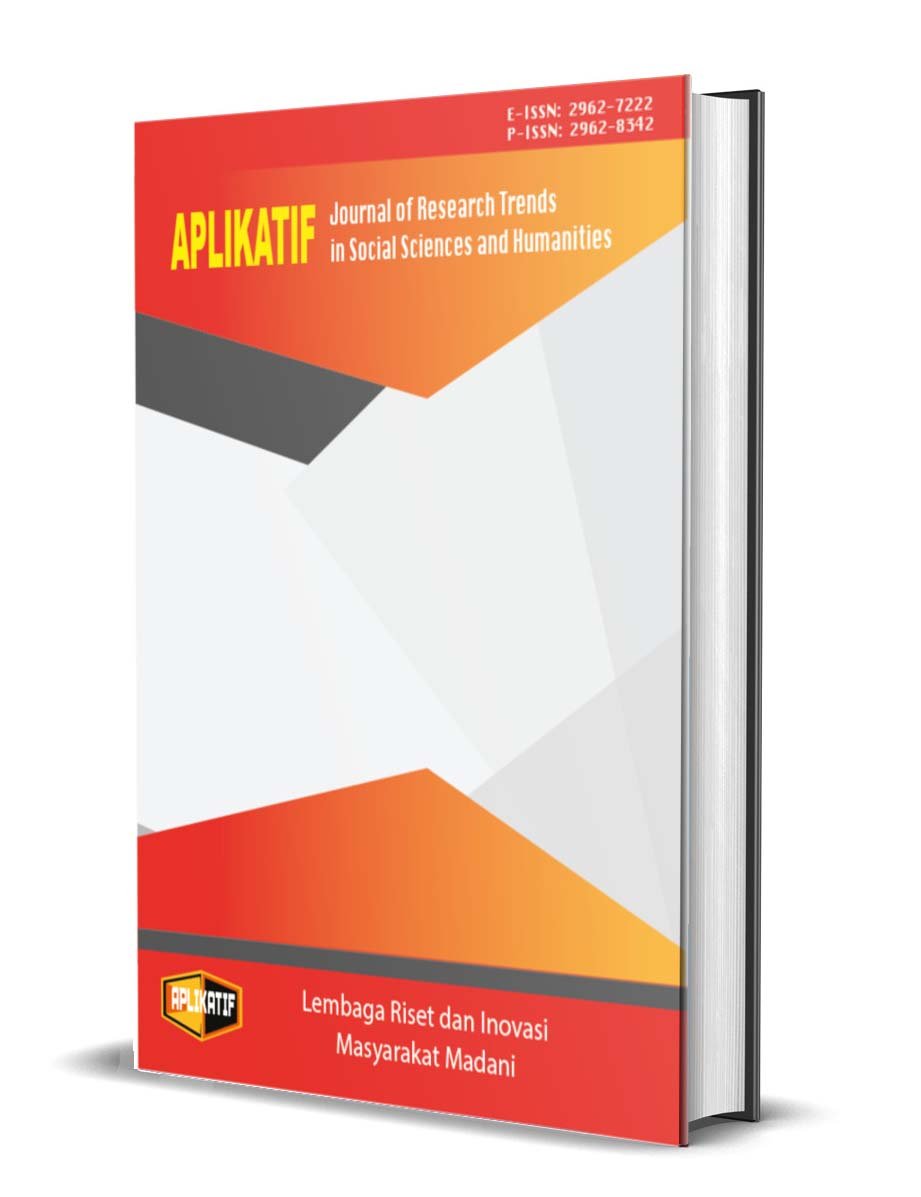 Downloads
How to Cite
Esperansa, S. T., Siva, N., Putri Saraswati , I. A. ., Wisnawa, K. S. C., & Kistian, A. (2023). The Effect of Toxic Friendship on Students' Mental Health. APLIKATIF: Journal of Research Trends in Social Sciences and Humanities, 2(2), 59–66. https://doi.org/10.59110/aplikatif.v2i2.124
License
Copyright (c) 2023 Serafina Trixi Esperansa, Nur Siva, Ida Ayu Putri Saraswati , Kadek Sukma Cahyani Wisnawa, Agus Kistian
This work is licensed under a Creative Commons Attribution-ShareAlike 4.0 International License.
| Abstract views: 109 / PDF downloads: 94